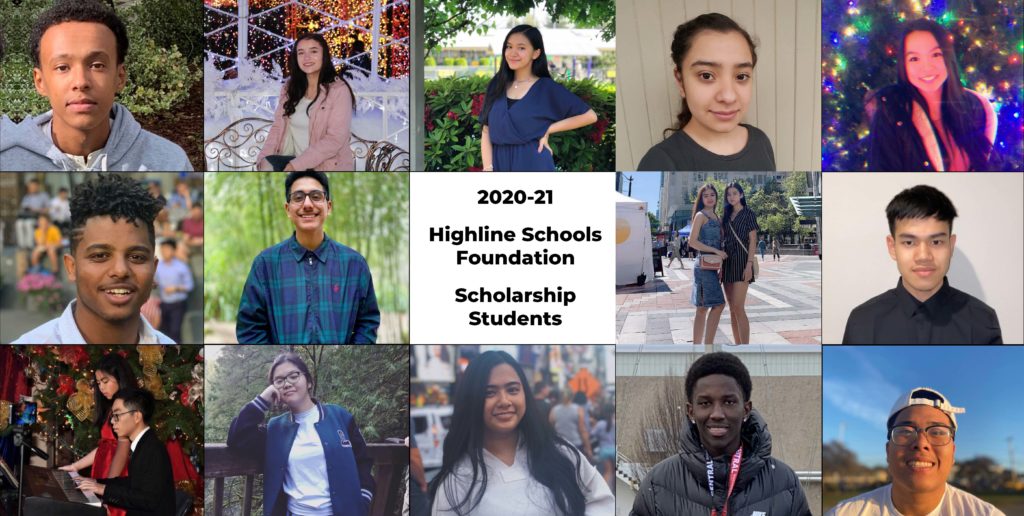 With tuition costs rising, students rely on financial aid and scholarships to help fund their education. Highline Public School seniors are invited to apply for scholarships in their senior year of high school to help reduce the cost of post-secondary education. 
Scholarships are made possible by gifts made to the Foundation. Each donor helps to set the criteria for which students will be selected for the scholarship they fund. The one common factor to all Highline Schools Foundation scholarships is need. All scholarship applications are screened for need based on the Washington State DSHS Median Income Chart.
Scholarships range from a $1,000 one-time scholarship to a $25,000 scholarship paid out at $6,250 per year for four years. All scholarships are paid directly to the educational institution and can be used for tuition, on-campus housing, books, and fees.
Students are considered for all Foundation scholarships by filling out one application. The application is available at the beginning of December and is due near the end of February.
If you are interested in donating to scholarships, you may click on the donate button below. Or, if you'd like to set up a named scholarship, please contact Anne Baunach at (206) 631-3120 or anne@highlineschoolsfoundation.org.
The following scholarships were awarded to the Class of 2020.
2020 Recipients and High Schools
Thanks to the generosity of benefactor Charles Garrity, two (2) $25,000 scholarships were awarded to students attending a 4-year institution. Scholarship criteria included financial need, academic performance, leadership and community service or extracurricular activities. 
Seattle Tacoma International Airport (STIA) Scholarship
Started in 2002, this is the Foundation's longest running scholarship, funded through the STIA Golf Tournament held each July. Four scholarships (one for $20,000 and three for $10,000) were awarded to students motivated to pursue a STEM education. 
Established in 2017 by Brad and Danielle Tilden, this scholarship supports students who might otherwise be unable to continue their education beyond high school. Four (4) $5,000 scholarships were awarded based on financial need, academic merit, and achievement. 
Created by MCSB, Inc, this scholarship was awarded to a student who has been impacted by homelessness or housing insecurity. Criteria included financial need, academic merit, achievement, and community service and leadership. One (1) $3,000 scholarship was awarded.
Mt. View Presbyterian Scholarship
Created by the congregation of Mt. View Presbyterian Church when they closed in 2019, this scholarship recognized graduates from Evergreen High School. Two (2) $2,000 scholarships were awarded. 
Severson Leadership Scholarship
Created by Anna and Daniel Nguyen, this scholarship was created to honor a former Evergreen High School counselor. It was awarded to a student from Evergreen  who demonstrated strong leadership. One (1) $1,000 scholarship was awarded and is renewable for 4 years if the student maintains a 2.5 GPA.
Pay it Forward Scholarship
Created by Vy Truong and Billy Chaung, this scholarship recognized graduates from Evergreen High School. Three (3) $1,000 scholarships were awarded. 
Harriette Fredenburg Memorial Scholarship
This scholarship was awarded to an Evergreen High School student who plans to study mathematics or education. One (1) $1,000 scholarship was awarded.