A gift to Highline Schools Foundation is easy to make. There are options to make the gift online, by mail, or by phone. Gifts of any amount are welcome. Learn more about our Gold Star Circle honoring our supporters who give $1,000 or more in a calendar year.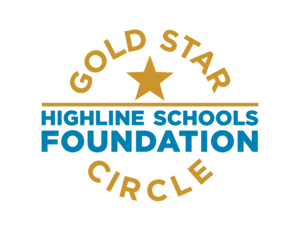 Our Gold Star Circle recognizes those individuals and companies who give $1,000 per year or more to Highline Schools Foundation. Donors at this level receive special recognition in our annual report, event programs, and on our website. And most importantly, you'll know that you are helping the students, teachers, and staff of Highline Public Schools.
It's easy to join. Just make a contribution of at least $1,000 to Highline Schools Foundation either in one lump sum or set up a recurring donation of $84 per month or more. Our list of Gold Star Circle donors grows every year. See who was part of the Gold Star Circle in 2019. Join them today by making your contribution to Highline Schools Foundation.