For countless years, the Burien Brat Trot has been a fun event for all ages, in support of the Highline Schools Foundation. Our 5k has always been a fast and (mostly) flat run/walk route through Old Burien, and new this year — our finish line will take our runners to Town Square Park and the 1st annual Burien Oktoberfest!
Through a partnership with Discover Burien, Burien Brat Trot and Burien Oktoberfest are together for an epic day of fun!
2022 Burien Brat Trot
Saturday, October 1st in Downtown Burien
The Burien Brat Trot is BACK and this year, we are reimagining our hometown race with a new partnership with Burien Oktoberfest! Our 5k route remains mostly unchanged, but we'll now have our finish line located in Town Square Park and Burien Oktoberfest. Join us on Saturday, October 1st for this fast and (mostly) flat 5k and 1k Kid's Fun Run through the streets of Old Burien and then stick around for the family fun at Burien's Oktoberfest, featuring a brew festival with local beers from Burien and Seattle breweries, kids activities, games, live entertainment, and even a root beer garden!
Registration NOW OPEN, and Brat Trot registration includes a bib and finisher's medal, and all adults 21+ will also receive a taster glass and a token good for one free beer taster at the Oktoberfest Brew Festival. Youth finishers will receive a token for a root beer float
at the Highline Schools Foundation's Root Beer Garden!
Brat Trot & Oktoberfest Schedule*
Thursday, September 29th at the Burien Farmers Market – pick up at the Highline Schools Foundation booth, 10am – 6pm
Friday, September 30th at Logan Brewing – early evening pick up, time TBA
Saturday, October 1st – Last minute pick up at table near Brat Trot Start Line (10th Ave. SW + SW 152nd St.), 8-8:50am
9am – Brat Trot 5k Fun Run begins at our traditional starting point, on 10th Ave. SW at the corner of SW 152nd St in Olde Burien
10am – Brat Trot Kid's 1k begins on SW 152nd near Town Square Park
10:45am – Awards & Awards at the Oktoberfest Stage in Town Square Park
11am – Oktoberfest opens! Oktoberfest includes Brew Fest featuring 14 local brewers, games, live entertainment, and the Highline Schools Foundation Root Beer Garden
* schedule subject to change
Brat Trot 5k and Kids' 1k Route Details: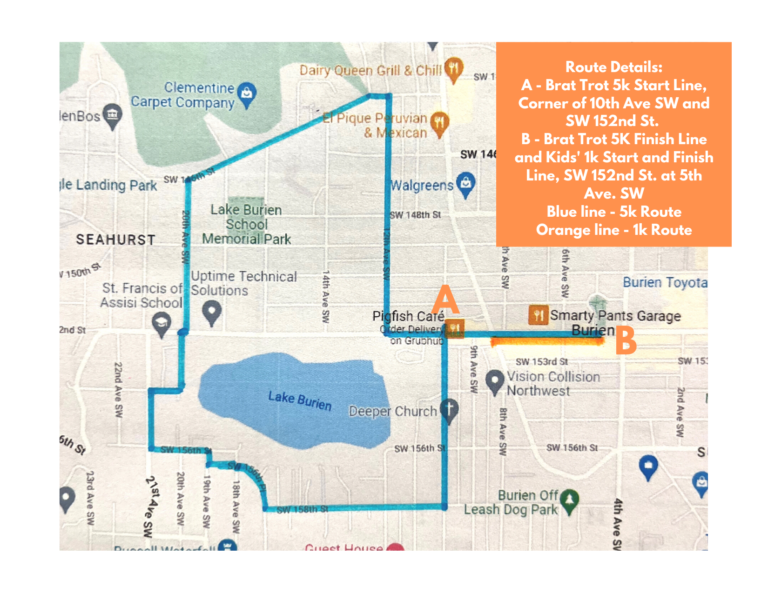 The Burien Brat Trot remains one of our longest-running and most loved community events, raising critical funds for the Highline Schools Foundation and our work throughout Highline Public Schools. Funds raised through Brat Trot registrations and event sponsorship supports basic needs, equitable and innovative learning opportunities, and college and career readiness for students at all grade levels and in every school in Highline.
Thank you to all our Brat Trot Sponsors!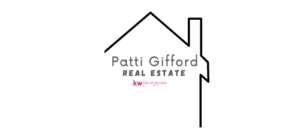 Brat Trot Sponsorship Opportunities Still Available
Interested in Sponsorship Opportunities? We have levels starting at $500, with benefits including complimentary Brat trot registrations, and plenty of recognition for supporting this community celebration. Contact Erin at erin@highlineschoolsfoundation.org for more information, or see all the details here.
Seeking Brat Trot Volunteers!
We are looking for folks interested in helping make the 2022 Brat Trot a success! Duties range from course monitors, medal distribution, day-of registration and bib/packet pick-up, to other day-of volunteer assistance. Complete our volunteer sign-up form here.