For many high school students, going to the prom is an event anticipated for years—but not going to the prom because the family can't afford a formal dress can be devastating. Project PROMise helps provide formal dresses, shoes, and accessories to girls in need in Highline Public Schools.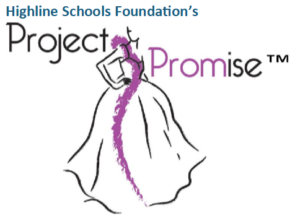 Highline Schools Foundation has collected new and gently worn prom-appropriate dresses (formal, prom, homecoming, bridesmaids, party dresses), wraps, shoes (strappy sandals, pumps, mid to high heels), and jewelry from our community. Then, each spring, Highline Public School high school students in need will be invited to "go shopping" in the spring for the perfect dress and accessories for their prom. The dresses are offered to the students to keep, or they may return them to the Foundation to be used the following year. At this point, no new donations are being accepted of dresses as the Foundation's has used all of its storage space for dresses. 
Volunteers make this event happen! It takes many volunteers to make this event special for these young women and we hope you will be part of this rewarding outreach program. If you would like to be added to the list for next year, please visit our Get Involved page where you can sign up to receive more information about this and other volunteer opportunities at Highline Schools Foundation.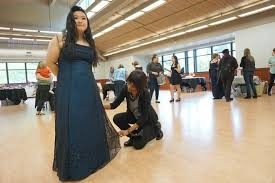 Sponsorship and Donation Opportunities
Project PROMise sponsorship and donations provides individuals and businesses great exposure in our community, and provides Highline Schools Foundation with resources to be able to support this program to help students in Highline Public Schools. Donation of services (such as hair styling, manicures and pedicures, and other spa treatments) are also greatly appreciated!
Funding allows Highline Schools Foundation to:
Purchase discounted dresses in sizes needed (we run out of very small and larger sizes each year)
Purchase hardware like hangers and dress racks
Provide dry cleaning for dresses as necessary
Provide supplies for our volunteer seamstresses
Please contact Anne Baunach, Highline Schools Foundation Executive Director, for more information at: anne@highlineschoolsfoundation.org or (206) 631-3120.