For over twenty years, Highline Schools Foundation has been a partner in the Seattle Tacoma International Airport Charity Golf Tournament, benefiting foundation scholarship and grant programs. Proceeds from this fun and lively event enable Highline Schools Foundation to provide programs that help students graduate, as well as award scholarships to bright, capable, and hard-working students, to support their dreams to attend college.
2023 SEA CHarity Golf Tournament
Wednesday, July 12th at the Golf CLub At Newcastle
Presented by Hensel Phelps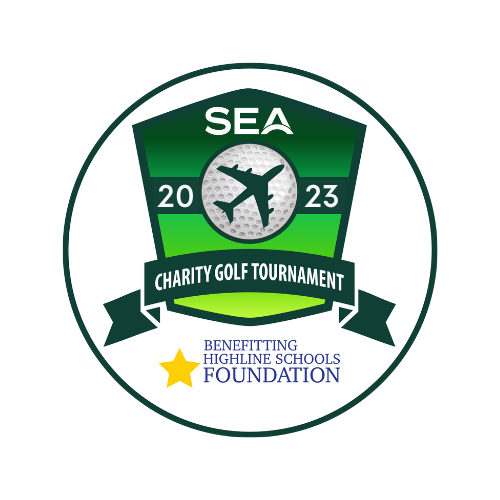 Join us for a fun day of golf at The Golf Club at Newcastle! 
Proceeds from the SEA Charity Golf Tournament benefit the Highline Schools Foundation. Funding from SEA enables the Foundation to provide programs allowing for innovative and equitable learning throughout all Highline Public Schools. SEA funding directly supports teacher and classroom grants, as well as scholarships to bright, capable, and hard-working students, supporting their dreams to attend college. Since the inception of the golf tournament, we have awarded $774,000 in SEA/STIA scholarships to 75 students.
Sponsorship Opportunities Available Now
Sponsorship is a fantastic opportunity to support the bright and hardworking students of Highline Public Schools. See details about 2023 sponsorship levels below, team registration will be open later this spring. We anticipate a sell out, and encourage securing your sponsorship now for maximum benefit!
Presenting Sponsor – $10,000
SOLD OUT
All promotional materials features "Presented by Company Name"
Golf Package for two foursomes
Logo/Company Name on banner near registration
Logo featured on course signage (six locations)
Logo on website, social media, and other event materials
Course Sponsor – $7,500
SOLD OUT
Golf Package for two foursomes
Logo/Company Name on banner near registration
Logo featured on course signage (three locations)
Logo on website, social media, and other event materials
Gold Sponsor – $5,000
SOLD OUT
Golf Package for one foursome
Choice of "named" sponsorship: Carts, Scoreboard/scorecards, Team photos, Breakfast, Post-golf
Reception, auction, or Hole-in-One (based on availability)
Logo/Company Name on banner near registration
Logo on signage at designated sponsor activity/area
Logo on website, social media, and other event materials
Hole Sponsor – $4,500
Two remaining at this level
Golf Package for one foursome
Includes cart for use by staff at the hole
Logo on signage at designated hole on course
Logo on website, social media, and other event materials
Silver Sponsor – $2,500
Five available at this level
Choice of "Named sponsorship: Practice Facility, Putting & Chipping Contests, Air Cannon, Golf Balls, Golf Tees/Towels (based on availability)
Logo on signage at designated sponsor activity/area
Logo on website and other event materials
Entry to post-golf reception for up to four
This level does not include golf
SEA Charity Golf Tournament Presented By