Attention Highline Public Schools! Each year with Brat Trot, you can win money for your school … it's easy! When you register for the Brat Trot, enter your school when asked "please select your school affiliation" and your registration will be counted in our school registration drive! The top three schools with the most registrants win money for their school or PTSA!
GO GET 'EM!
NEW SCHOOL MATCH-UPS. MORE SCHOOLS BECOME WINNERS! In order to help schools in our district with the resources they need — each year, we partner some schools together so more schools benefit! The schools are chosen on a rotating basis — so if your school wasn't a "partner school" this year – don't worry — it will be in the coming years. We're excited about the opportunity to help more schools. Thank you for your support!
Partner Schools for 2020:
Marvista Elementary and Parkside Elementary
North Hill Elementary and Hazel Valley Elementary
Mount Rainier High School and Pacific Middle School
RESULTS
Congratulations to our 2020 Burien Brat Trot winners.
Highline High School will receive $1,000.
McMicken Heights Elementary will receive $750.
Shorewood Elementary will receive $500.
New in 2020 – Highline Schools Foundation added an individual prize to the school designation contest. All employees of Highline High School (winner of the school registration contest) were entered into a random contest. Teacher Taj Corvino's name was drawn. Taj will receive a pair of tickets anywhere Alaska Airlines flies. 
Thanks to everyone who participated in our school designation contest. Congratulations to all of the 2020 winners.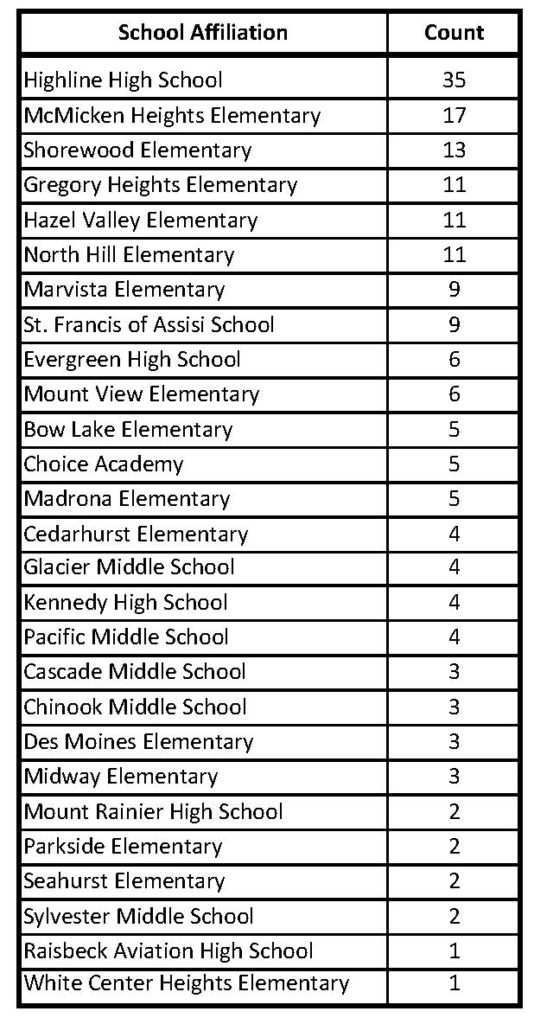 The winners for 2019 were…
1st Place: Highline High School (and their partner school Sylvester Middle School) both received $1,000
2nd Place: North Hill Elementary received $750
3rd Place: Marvista Elementary (and their partner school McMicken Heights Elementary) both received $500